Whether you're dissatisfied with your stock car stereo or you're just looking to put the newest mobile video technology in your car or truck, you've come to the right place. Car-feteria specializes in all types of mobile electronics for cars, trucks, and even watercraft. We can help you get set up with everything from cruise control and remote starters to in-car DVD players and out-of-this world car audio systems. So if you're in the market for aftermarket electronics to bring you the customized ride you've always wanted, our experts can help you get the driving experience of your dreams.
Car Audio Video and Beyond
Vehicle Security
50+ Years Experience
Free Estimates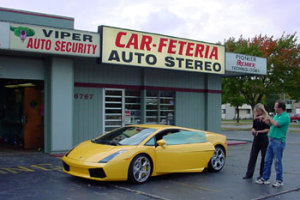 Founded in 1965 by Charlie Richter, Car-feteria is now operated by his daughter, Patrice Steeber. We're a local, family-owned car electronics shop, and we use our truly extensive experience in the car audio video business to make certain our local customers get the very best mobile entertainment and security for their vehicles. Our professionals are passionate about their work, and it shows! From helping you select the right car GPS or car alarm for your particular needs to completing a precision custom installation job, Car-feteria provides you with the exceptional knowledge, friendly service, and fantastic results you deserve. To get started, stop by our mobile electronics shop or call for your free estimate today!
Car-feteria is based in Milwaukee, and we provide mobile electronics services for car, truck, and boat owners from across the region. Our client base comes from all around, including the towns of Waukesha, Grafton, Sussex, Hartford, Whitefish Bay, Glendale, Brookfield, River Hills, and Oak Creek. Our company was founded on making quality service our number-one priority, and we've stayed true to that principle for more than 50 years. At Car-feteria, we are here to assist customers in finding the right car alarm or car stereo equipment for their needs, installing it completely and correctly, and providing nothing but fabulous customer service from start to finish. And, unlike some other car audio video shops, we don't inflate our prices to excessive levels: we provide you with high-class components and installation at a surprisingly affordable cost. So if you've been considering upgrading your car with an in-dash navigation system or wanting to increase your vehicle security with a new car alarm, Car-feteria is the professional you can rely on. From the latest technology in everything from car DVD players to remote starters to the best customer service in town, we go above and beyond for you.
Car-feteria is fully insured for your protection. We are also members of the Better Business Bureau (BBB) and Mobile Electronics Retailers Association (MERA).